Business
RBZ allots US$18,9 mln, calls to stabilise the ZWL
Business Writer
THIS week the Reserve Bank of Zimbabwe (RBZ) allotted a total US$18,9 million to support industry's productivity needs as shown in the image below;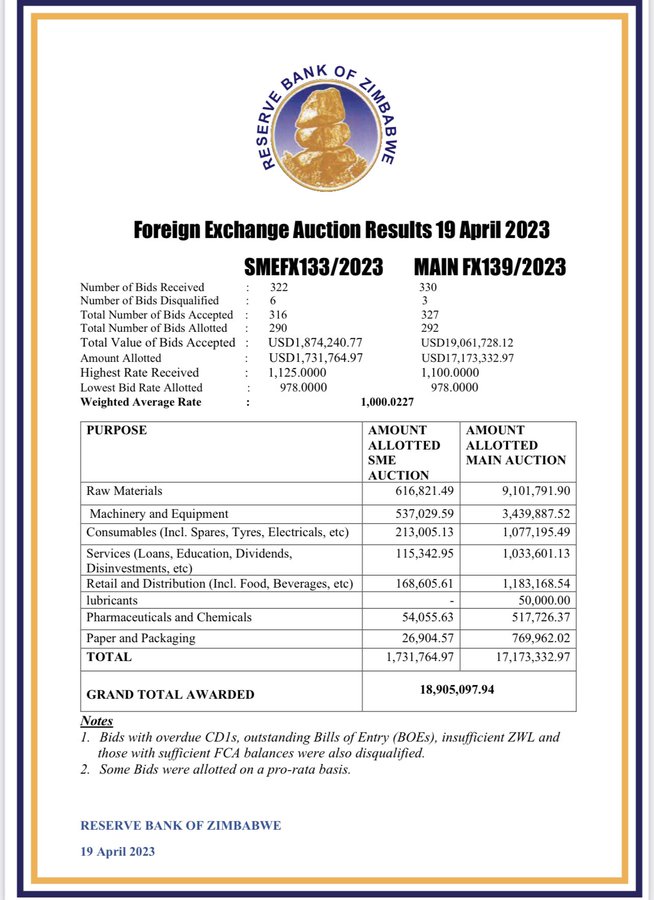 Analyst Persistence Gwanyanya calls for measures to strengthen the Zim dollar in the analysis below;
1) As the recent parallel exchange rate depreciation disequilibrate the forex mkt there is need to restore market equilibrium and close the arbitrage gap
2) However, its folly to expect the parallel market rate to firm up towards the official rate.
3) As such efforts should be geared towards curtailing further ZW$ depreciation in the parallel market
4) As the official rate creeps towards the alternative rate, equilibrium will be reestablished somewhere between the two rates
5) Now that the official rate has breached the physiological mark of US$1:ZW$1000 there is need for policy makers to redouble the efforts towards restoring stability .
The current measures have to be enhanced;
a) Proper mix of ZW$ & US$ on pyts to contractors & suppliers to support the beneficiaries with forex to meet their import requirements
b) Increased monitoring by FIU to minimize participation in parallel market especially by those who are supported with forex for their imports.
# Road contractors, specifically the Beitbridge-Harare Highway are being supported with forex for their import requirements so there is no need to participate in parallel market (double dipping) c) Expediting the roll out of digital gold backed products for value preservation.
# This value preservation avenue is not only beneficial to contractors & suppliers who get paid huge sums of ZW$ by Govt but anyone who wants to preserve value
d) Moral suasion. There is need to knock sense in key drivers of the market why stability is good for them & everyone
5) There is urgent need for Govt to sacrifice and restore stability before elections gather momentum
6) The following gives us confidence that stability can be restored; a) The calmness in the economy & markets
b) Low velocity of money signifies that the mkt has not panicked